EYLEX introduces soldier worn integrated power equipment system [SWIPES]
EYLEX introduces soldier worn integrated power equipment system [SWIPES]
by ANZIDECC Directory on 06/03/2016 10:56 PM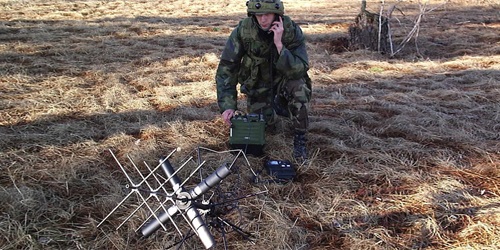 SWIPES is a soldier worn flexible power distribution system that utilises a central hub to distribute power from commonly used military batteries through a trickle charge to most individually worn equipment. This allows for the most efficient use of power and decreases the weight a soldier must carry by virtually eliminating the need to carry spare batteries.
In addition, the hub can also deliver data from the individually worn equipment to an end user device allowing the user to view all of the networked assets on their person in one place such as a tablet or smart phone.
Power is provided to the radio through the use of a smart charging cup seated in the bottom of the radio pouch providing a trickle charge to the radio with the original radio battery intact providing the user with a fully charged and functional radio should the need arise to pull the radio from the kit.
SWIPES is currently a Program of Record with the US Army's PM Soldier Power with over 7,500 units currently being used in theatre and provides a cost effective solution to the logistics management problem of providing multiple battery types and different charging regimes in the field.
In the Australian context, a soldier has to carry some or all of the following electronic equipment:
GPS [DAGR];
Personal Role Radio [PRR];
Command Network radio [PRC-152];
Battle Management System Computing Device [Elbit BMS];
EPLRS Microlight Radio; and
Other Mission Specific Devices [eg. Thales SOPHIE Thermal Imager].
They also need to carry spare batteries on top of their personal equipment and weapon load-out. This means carrying four or more different types of batteries as spares for a 24 hour deployment/mission. The SWIPES requires only a single battery to trickle charge the carried electronic equipment extending the mission time potentially out to 36 hours depending on equipment usage, and reduces the need to carry multiple batteries as spares. This substantially reduces the weight of spare batteries that need to be carried by the soldier.
Contact sales@eylex.com.au for further information.
Comments
LEAVE YOUR COMMENT