News

/

Thailand unveils locally developed amphibious APC
Thailand unveils locally developed amphibious APC
by ANZDD on 09-Nov-2017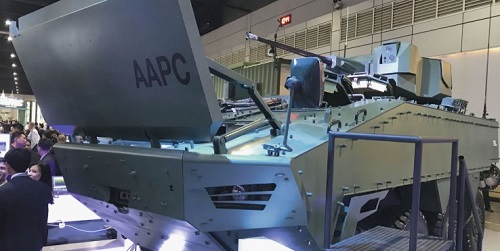 Thailand's Defence Technology Institute (DTI) has unveiled a prototype of a newly developed 8x8 Amphibious Armoured Personnel Carrier (AAPC) intended for the Royal Thai Marine Corps (RTMC).
The DTI, a research and development (R&D) agency under the Thai Ministry of Defence (MOD), said on 6 November at the Defence & Security 2017 show in Bangkok that the AAPC prototype has been developed and produced in collaboration with local company Cho Thavee.
AAPC is based on DTI's Black Widow Spider 8x8 vehicle.
An official from the DTI told Jane's that the DTI will start testing the AAPC prototype soon, before handing it over to the RTMC for additional trials from mid–2018. Production of the vehicle could start by the end of the decade or the early 2020s, although a production partner has yet to be identified.
Cho Thavee, a company specialising in engineering and truck manufacturing, would be expected to bid for the production contract.
Jane's understands that the Thai government has agreed in principle to purchase an initial five AAPC units once trials are concluded, although it is thought a requirement for more than 20 amphibious vehicles exists as the RTMC replaces its depleted fleets of US-made AAV-7A1s.
The AAPC, which is based on the 8x8 Black Widow Spider armoured vehicle previously developed by the DTI for the Royal Thai Army (RTA) in collaboration with Singapore Technologies Kinetics (ST Kinetics) and local industry, measures 8 m long and 3 m wide. It weighs up to 30 tonnes and can carry 11 troops. Its armament includes 30 mm and 7.62 mm guns.
The DTI also revealed that its plan to develop and manufacture the Black Widow was progressing, with the production of several locally produced prototypes undergoing evaluations with the RTA. The DTI hopes to secure a contract to mass produce the vehicle in collaboration with local industry by the end of the decade.
Source: IHS Janes
Comments
LEAVE YOUR COMMENT