News

/

ST Engineering Launches LMV Dauntless for Singapore Navy
ST Engineering Launches LMV Dauntless for Singapore Navy
by ANZDD on 22-Aug-2018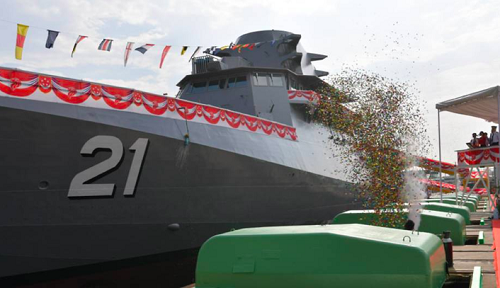 ST Engineering's Marine sector rolled out the seventh Littoral Mission Vessel (LMV) named Dauntless which was built for the Republic of Singapore Navy (RSN).
It is the seventh LMV built by the firm for the Navy since 2013 to replace Fearless-class Patrol Vessels.
"We are committed to continue the good progress we have made thus far, and look forward to completing the programme with the last and final LMV," ST Engineering's Marine sector president Ng Sing Chan said.
In a press release, the Ministry of Defence (MINDEF) said the launch of Dauntless was a "significant milestone in the RSN's continued transformation to keep Singapore's waters safe".
The LMV programme is progressing well, said MINDEF.
The official launching ceremony at ST Engineering's Benoi Yard was officiated by Heng Swee Keat, Minister for Finance whilst his wife, Heng Hwee Nee, acted as the lady sponsor who named and launched the vessel in accordance with naval traditions.
Speaking at the launching ceremony, Heng said that the LMV's name reflects the RSN's "determined spirit to overcome all adversity without fear", and that the name also captures the attributes of Singapore's founding generation.
"The Dauntless spirit will continue to guide the RSN in innovating and constantly improving itself to safeguard Singapore," he said.
Launched in 2013, The LMV is set to replace the RSN's current fleet of Fearless-class Patrol Vessels which were also built by ST Engineering in the 1990s. The new LMVs are 2.5 times larger and equipped with better seakeeping capabilities to operate in higher sea state conditions.
Source: Global Business Press
Comments
LEAVE YOUR COMMENT