News

/

Singapore discloses further details of Invincible-class submarines
Singapore discloses further details of Invincible-class submarines
by ANZDD on 21-Feb-2019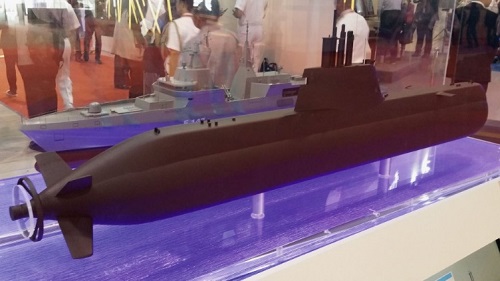 Key Points
Singapore has given further details on the capabilities of its new Type 218SG submarines
The vessels will be equipped with indigenously developed data analytics as well as sense-making systems
Singapore's Ministry of Defence (MINDEF) has disclosed further details of its new Type 218SG air-independent propulsion (AIP)-equipped submarines, which have been customised specifically for operations in shallow and congested waters.
The details were revealed in conjunction with the launch ceremony of the first-of-class, which will be known as RSS Invincible once commissioned, on 18 February. Invincible is one of four Type 218SG boats acquired under two separate contracts signed between ThyssenKrupp Marine Systems (TKMS) and the Singapore government in 2013 and 2017.
According to information released by MINDEF, the vessel will have maximum speeds in excess of 15 kt when submerged and 10 kt when dived. The submarine will also displace 2,200 tonnes when submerged and 2,000 tonnes when surfaced. Each boat is armed with eight tubes.
Although not disclosed, these tubes will likely deploy 533 mm torpedoes and other munitions via water-ram discharge devices such as those found on the German Navy's Type 212A boats, which have been used as a reference for the Type 218SGs.
The vessel will also be able to stay submerged about 50% longer than the Archer (Västergötland) and Challenger (Sjöormen) classes of boat that it will eventually replace, and can "carry a wider range of mission payloads", said MINDEF.
Given that the Archer and Challenger classes have submerged endurances of between 14 and 21 days respectively, this puts the Independence class's endurance at about 28-42 days without snorkelling.
In addition, the submarines will be equipped with sense-making and "accelerated decision-making support systems", which include data analytics and decision support engines that have been developed in-country by Singapore's Defence Science and Technology Agency (DSTA).
Source: Janes
Comments
LEAVE YOUR COMMENT