News

/

Royal Thai Army receives first batch of Stryker ICVs from US
Royal Thai Army receives first batch of Stryker ICVs from US
by ANZDD on 30-Aug-2019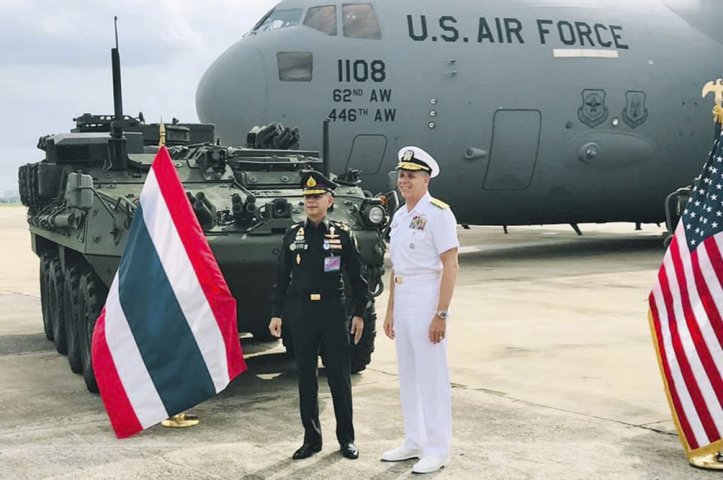 The United States has delivered a first batch of General Dynamics Land Systems Stryker 8×8 infantry combat vehicles (ICVs) to the Royal Thai Army (RTA), the Joint US Military Advisory Group Thailand (JUSMAGTHAI) announced on 29 August on its Facebook page.
The advisory group also released images showing the ICVs at an undisclosed Thai airbase after being flown to the Southeast Asian country aboard a US Air Force C-17 Globemaster III transport aircraft. The photographs also show Thai and US officials present at the handover, including US Navy Admiral Philip Davidson, the commander of the US Indo-Pacific Command (USINDOPACOM).
The JUSMAGTHAI did not disclose how many vehicles were delivered, but a day later USINDOPACOM specified via Twitter that two Strykers were part of the first batch.
The move comes after the US Defense Security Cooperation Agency (DSCA) announced on 26 July that the US State Department had approved the sale to Thailand of 60 Strykers, 60 M2 machine guns, and associated equipment for USD175 million.
The DSCA said at the time that Thailand's Stryker acquisition - indicative of warming Thailand-US defence ties - would increase the country's "capability to defend its sovereign territory against traditional and non-traditional threats by filling the capability void between light infantry soldiers and heavy mechanised units".
The RTA had confirmed in May its intention to buy 60 M1126 Strykers, saying at the time that its planned acquisition featured 37 vehicles, which would be funded by Thailand for THB2.96 billion (USD96.4 million), and an additional 23 units to be funded by US Military assistance.
Source: Janes 360
Comments
LEAVE YOUR COMMENT