News

/

Pindad, FNSS sign Indonesian tank production agreement
Pindad, FNSS sign Indonesian tank production agreement
by ANZDD on 07-May-2019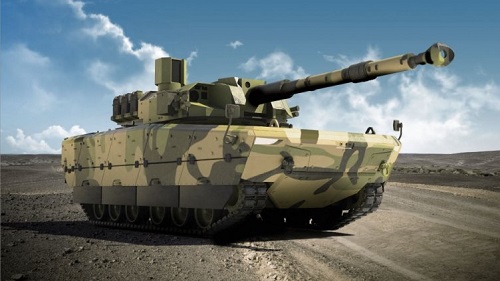 Indonesia's PT Pindad and Turkish company FNSS Savunma Sistemleri - a joint venture between Turkey's Nurol Holding and BAE Systems - have signed an agreement to support the serial production of the Kaplan MT Modern Medium Weight Tank (MMWT).
A "mass production contract" for the tank, which the two companies have developed since 2015, was signed at the IDEF defence and aerospace show in Istanbul, which ended 3 May, Turkey's Presidency for Defence Industries (SSB) said in a statement.
The SSB announced that the new agreement will support the production of Kaplan tanks for the Indonesian Ministry of Defence (MoD). "Within the scope of this project the Ministry of Defence of Indonesia issued a series of production plans for 18 medium weight tanks," it said.
These plans relate to the signing of a letter of intent (LOI) on 12 April between the MoD and PT Pindad. Jane's has previously reported that this LOI was for the Indonesian Army's procurement of up to 20 Kaplan tanks for USD135 million. A contract is expected to be signed within the next year.
The SSB did not provide additional details about the new agreement but it is likely to relate to the transfer of technologies and know-how to PT Pindad to facilitate production of the tank in Indonesia.
The Kaplan tank programme is supported by an inter-government agreement signed by Indonesia and Turkey in November 2014.
Work on the project started shortly after, with two prototypes and one hull for mine testing produced by 2017. FNSS unveiled the first MMWT prototype at the IDEF exhibition in Turkey in May 2017. Tests on the tank were completed by late 2018.
Source: Janes
Comments
LEAVE YOUR COMMENT