News

/

Paramount Group, Jatunapas and DTI to Partner for Local Production of ICVs in Thailand
Paramount Group, Jatunapas and DTI to Partner for Local Production of ICVs in Thailand
by ANZDD on 31-Aug-2022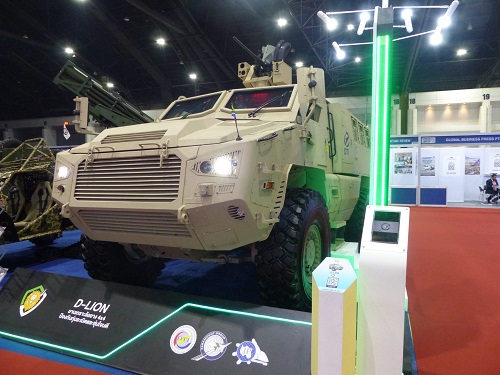 Thai efforts to manufacture advanced infantry combat vehicle's (ICV), in-country have received a boost, with the announcement of a new tri-partite partnership with South Africa's Paramount Group, Jatunapas of Thailand and the Defence Technology Institute (DTI), which is Thailand's defence research and development (R&D).
The firms will work together to produce Paramount Group's advanced Infantry Combat Vehicle (ICV), the Mbombe 4, in Thailand. Following assembly of the Mbombe 4 within Thailand, the next generation ICV is to undergo vehicle trials by the Thai Armed Forces and the country's Defence Technology Institute (DTI), an agency operating under the oversight of the Thai Ministry of Defense. This was also the first instance of a Mbombe 4 being assembled in SE Asia.
The first locally assembled ICV named 'D-Lion,' which is the local name for the Mbombe 4, was handed over at the show.
Ploynapas Chaiyasree, CEO of Jatunapas Company Limited said: "The D-Lion combat vehicle which has been assembled in Thailand through the cooperation of DTI, Jatunapas and Paramount Group represents a first-of-its-kind in this level of combat capability. South Africa is globally recognized for its leading competence in this vehicle class, whilst Thailand has significant competence in vehicle production. The Mbombe 4's continued expansion into the Asia-Pacific marketplace and beyond emphasises the success of the Paramount Group-pioneered portable manufacturing model."
Eric Ichikowitz, Senior Vice President of Paramount Group said: "We are privileged to partner with DTI and Jatunapas to bolster local manufacturing capabilities through the production of the formidable Mbombe 4. We are looking forward to building this partnership and that with the Thai government, from this milestone."
There are more than 150 Mbombe 4's either being manufactured or on order for delivery or deployment across Africa, Asia and around the world.
"This announcement in Thailand is an important next step in the Mbombe's continued expansion, and a testament to the innovative partnerships that we have fostered to the benefit of our partner nations' respective defence industrial complexes. We are pleased to say that the Mbombe 4 is ready for production in Thailand as of today," Ichikowitz added.
Source: GBP
Comments
LEAVE YOUR COMMENT