News

/

German Bundeswehr to Procure KMW Leguan Bridge Laying Systems
German Bundeswehr to Procure KMW Leguan Bridge Laying Systems
by ANZDD on 28-Oct-2016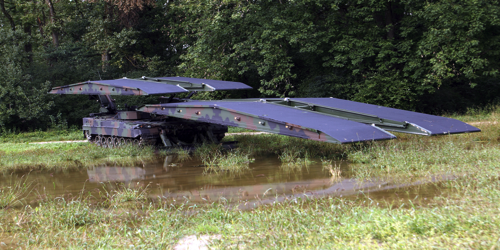 Krauss-Maffei Wegmann (KMW) has announced the signing of an agreement with The Federal Office of Bundeswehr Equipment (BAAINBw) for the procurement of seven Leguan bridge laying systems built on the Leopard 2 chassis.
The vehicles will be supplied to the Bundeswehr between 2018 and 2021.
Germany had warranted this capability to NATO regarding its involvement in the Very High Readiness Joint Task Force (VJTF) as of 2019.
The total order volume amounts to approximately EUR 88 million and will include the supply of the transport systems as well as training simulators and ancillary equipment.
The acquisition of the Leguan bridge laying systems will allow the Bundeswehr to cross water obstacles and gaps in terrain, even with heavy machinery in military load class MLC80 (approx. 72 tons).
The system is capable of transporting and laying one 26-metre-long bridge or alternatively two bridges with a length of 14 metres each.
Already un use with five user nations, Germany will be the sixth nation to the induct the Leguan on Leopard 2 chassis.
A total of 17 countries operate the Leguan bridge laying system on different mobility platforms.
Source: Asian Defence Technology
Comments
LEAVE YOUR COMMENT