Sorberbarrier from Pyrotek control noise for longevity in defence vehicles
Sorberbarrier from Pyrotek control noise for longevity in defence vehicles
by ANZIDECC Directory on 08/03/2019 6:04 AM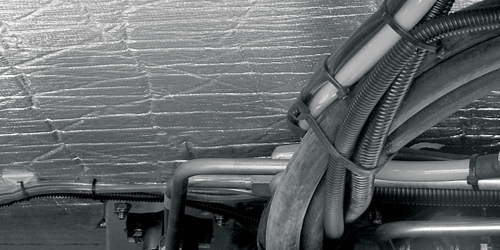 Sorberbarrier™ - effectively controlling noise in military transportation vehicles.
Improve the field environment for personnel on patrol. Deliver a safer, smoother ride, and provide longevity for vehicles.
Pyrotek® is a global engineering leader specialising in high-performance acoustic and thermal insulation materials for defence. Their world-class team of skilled engineers and scientists bring a wealth of knowledge and experience to controlling noise in challenging environments.
Sorberbarrier™ is manufactured to be a unique composite noise control product that offers both excellent noise transmission loss and high noise absorption. Developed to meet the requirements for OEM and marine markets, Sorberbarrier™ is constructed with polyether and mass-loaded vinyl to provide a unique noise barrier that is flexible for different applications.
Sorberbarrier™ is the industry's cutting edge solution for military vehicles. Available in various configurations, or even as pre-cut, customised kits - it is simply applied to engine compartments, and along firewalls of cars, specialty vehicles, trucks, as well as engine room applications in marine and shipping.
The product has increased fire protection to meet stringent fire requirements and is the safest option to control noise for tough, long lasting vehicles. It is highly effective for defence applications that require durability, high performance in fire tests and protection from fatigue vibration.
Tested to stringent specifications, the results are as follows:
Test method

Index

Results

Description

UL94

UL intends this standard to serve as a preliminary indication of a plastics acceptability for use as part of a device or appliance with respect to its flammability.

After flame time ≤ 2 seconds

HBF*

Horizontal burn test for foam materials

FMVSS-302

Flammability of materials used in the occupant compartments of motor vehicles according to FMVSS 302. (Federal Motor Vehicle Safety Standard)

Burn rate – mm/min

Self-extinguishing

Automotive burn rate test
*Results applies to 12mm thickness
Pyrotek® Sorberbarrier™ lays the foundation for safety and will deliver long-lasting results for defence projects.
For more information visit www.pyroteknc.com
Comments
LEAVE YOUR COMMENT