Long range anti-personnel sniper system by Force Ordnance
Long range anti-personnel sniper system by Force Ordnance
by ANZIDECC Directory on 18/06/2021 7:57 AM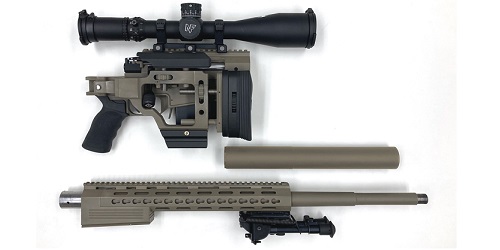 The APRS QTD1 Long Range Rifle is an Australian designed and manufactured precision firearm with our unique, patent pending Quick Take-down System.
This system enables the user to remove or replace the barrel in seconds without compromising accuracy or precision.
The Quick Take-down System also allows for a variety of calibres to be easily interchanged.
Every component of the APRS QTD1 Long Range Rifle has been engineered to achieve maximum ballistic performance, accuracy, and repeatability.
TECHNICAL SPECIFICATIONS
CALIBRES
.338 Lapua Magnum (Standard)
.300 Norma Magnum
.338 Norma Magnum
.308 WIN conversion kit available
ACTION
APRS bolt action repeater, 42mm x 39mm
3 lug fluted bolt, 60 degree throw
2 position safety
Honed action bore for smooth operation
Right handed (standard)
Gas-nitrided, pre-hardened 4140 chrome moly
TRIGGER
2 stage match-grade trigger (standard)
Fully adjustable for pull weight (1lb to 4lb) and trigger position
BARREL OPTIONS
Length: 16" to 30"
Rifling options: 6 groove/5R/single cut/button pulled, all available with various twist
Fluted or non-fluted
Threaded for muzzle brake and suppressor
416 stainless steel. Match-grade
Carbon wrapped. Match-grade
STANDARD .338LM BARREL
26"
416 stainless steel. Match-grade, hand-lapped
1.24" straight taper to 0.95" at muzzle
6 groove, button pulled, 1:10
Threaded for muzzle brake and suppressor
Removable suppressor/muzzle brake
CHASSIS
7075 T6 aluminium
Durable Cerakote finish (multiple colours)
Full Length, single-plane 20 MOA top rail
Picatinny and ARCA rails as standard
MLOK and KeyMod available
Forend is removed with barrel
Lightweight folding stock (over bolt)
Adjustable cheek piece and length of pull
Oversized trigger guard
Flush cup sling attachments
Ergo pistol grip (accepts all M4 style)
Optional bipod available (as shown)
Optional front and rear backup sights
MAGAZINE
Double stack staggered feed, 10 round
Accepts all AI pattern magazines
SUPPRESSOR
Multi-calibre up to .338
Expansion chamber and baffles
Over barrel, direct thread, self-centring via 2 points of contact on barrel
Weight: 1.2 kg
Length: 33cm/13"
Material: 4130 chrome moly WEIGHT
7.6kg (.338LM standard)
Wthout scope, suppressor, bipod
DIMENSIONS
Full length: 126cm / 49.6"
Folded: 101cm / 39.8"
Folded, barrel removed: 32cm / 12.6"
Barrel with forend: 74cm / 29" STORAGE
Soft bag
Lockable hard transport case
Supplied to military, government and law enforcement by Force Ordnance, a division of Lightforce Group.
For additional information please visit www.forceordnance.com
Comments
LEAVE YOUR COMMENT