Intertek plays crucial role in construction of Air Warfare Destroyer Warships
Intertek plays crucial role in construction of Air Warfare Destroyer Warships
by Intertek Malaysia Sdn Bhd on 11/02/2016 11:17 PM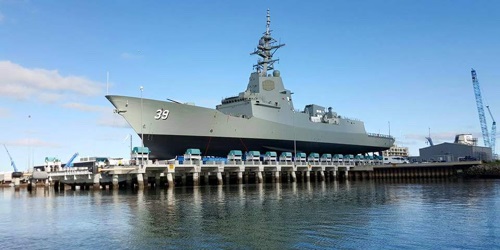 Intertek is a provider of smart inspection technologies that support the Australian Submarine Corporation's (ASC) construction of three Hobart Class Air Warfare Destroyer (AWD) warships for the Royal Australian Navy.
Intertek has delivered non-destructive, mechanical, metallurgical and radiographic testing services to meet the stringent testing demands of this large-scale and complex production sequencing project leading up to the successful launch of the first destroyer HMAS Hobart in May 2015.
As one of the largest non-destructive testing service providers in Australia, Intertek has been tasked with conducting failure analysis and inspection services across all aspects of the shipbuilding life cycle. This includes certifying the smallest components through to all heavy lifting equipment including ship lift assemblies. Intertek also performs radiographic hull inspections, testing on welded joints, internal piping systems, and attachments such as mast assemblies, as-welded-in weapon systems, propellers and more. Intertek's responsive and flexible approach aligns with changing client needs as the 150 to 200 tonne blocks are assembled.
The project is due for completion in 2020 with the launch of the two currently built destroyers, HMAS Brisbane and HMAS Sydney. All three warships will have the ability to provide the full spectrum of joint maritime operations, from area air defence and escort duties, to peacetime national tasking and diplomatic missions.
For further information please visit our website (www.intertek.com) or contact Brett Lonnee (email brett.lonnee@intertek.com).
Comments
LEAVE YOUR COMMENT