Flexovit the Maxx cut for defence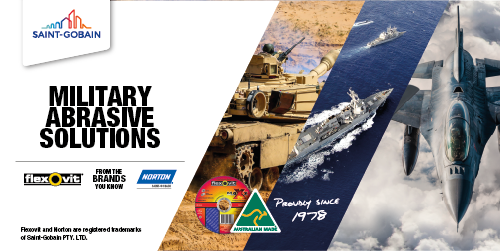 Maxx, is Flexovit's best performing wheel. Flexovit is designed for most the demanding stainless and steel cutting & grinding applications. When you need a wheel which will deliver on any project in metal fabrication Maxx is a world class solution.
Saint-Gobain has an extensive R&D program which provides abrasive solutions to over 62 countries, making it the world's #1 cutting wheel manufacturer.

MAXX NEW GENERATION NORZON® PLUS GRAIN
• Faster, more precise cuts with tough advanced fracture grain technology
• Grain continuously fractures while cutting revealing a razor sharp edge every time
• High productivity with more cuts ,less effort and wheel replacement

NEW 1.6MM FOR INDUSTRIAL
Extensive R&D has demonstrated 1.6mm to be the sweet spot offering the best balance in
quality and number of cuts for the rigours of demanding industrial applications.
• 50% longer life than Flexovit's most popular wheel*
• Minimal bur and bluing stainless
• Iron & sulphur free
• All Flexovit cutting & grinding products in Australia are manufactured to AS 17881-1978, EN12413, OSA
For additional information visit https://www.saint-gobain-abrasives.com/en-au/contact-us
Comments
LEAVE YOUR COMMENT