Bosch Rexroth has your Simulation requirements covered with our range of motion technologies
Bosch Rexroth has your Simulation requirements covered with our range of motion technologies
by Bosch Rexroth Pte Ltd on 21/09/2019 1:53 AM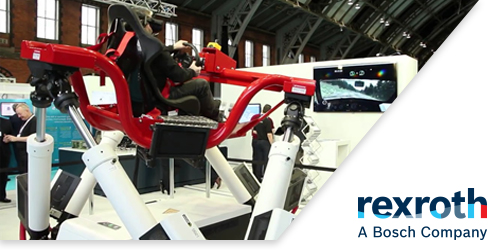 Bosch Rexroth's successful motion platform range is extended with a brand new electromechanical variant. Because this design is built from standard (i.e. proven!) components, the end user benefits from a driving and flight simulation application platform that combines reliability with a low cost of ownership. What's more, performance in the areas of noise, payload and dimensions is significantly improved.
· Safe operations
· Energy efficient
· Low maintenance
· Optimal motion control
· Best in class smoothness
The new 6dof motion platforms can be used for every imaginable vehicle simulation that mimics the characteristics of not just passenger vehicles, but also trucks, trains, heavy equipment, and of course - aircraft. Our 3dof and 6dof motion platforms have been developed to meet the latest standards for flight simulation, driving simulation and cabin crew trainers.
Additionally we can customise a system and solution to your requirements from our broad range of technologies and experience.
Video Links
https://www.boschrexroth.com/en/xc/industries/machinery-applications-and-engineering/motion-simulation-technology/index
https://www.youtube.com/watch?v=vBhmZB8tWs4
Comments
LEAVE YOUR COMMENT